Sunday, November 02, 2008
Questions over Robin Cook's death
Another David Kelly? Some people online are asking questions.
While googling around the other day, one link led to another until a blog in particular caught my attention. Though I'm a firm believer that shit happens and that, if one wants, practically everything can be dressed up and interpreted as conspiracy (sometimes to mental extremes), I'm also aware that there are several grey areas in the way our governments act. This blog paid some attention to the strange death of Dr David Kelly and the murky world behind the Iraq war and I couldn't help but think that aspects of Robin Cook's death don't appear to fully add up.
I know it's hardly topical but you may want to have a look.
According to this entry ("Lingering questions about Robin Cook's death") available on a blog called 'Shaphan', there was some ambiguity regarding Cook's official cause of death (head injuries or heart disease?). Also, it may mean nothing, but as the Scottish mountain of Ben Stack (where Cook died while on a walking holiday) is extremely isolated, for a walker (or walkers - again, there seem to be contrasting versions) to be at hand and phone for help was quite a singular coincidence. More, in spite of earlier reports suggesting the opposite, it is was later established that both Cook and his wife were indeed carrying a mobile phone themselves (it was 2005, after all).
Finally, "Robin Cook chose an extremely remote place to die, far away from London, and the story was over before the press could send anyone to cover it". I didn't know, for instance, that Ben Stack is property of the Duke of Westminster, someone who devoted most of his life to the British Army and has always been regarded as a top MoD insider.
Similarly to the David Kelly affair, in spite of the high profile nature of the deceased, the police declared the case closed straightaway "as this would appear to be a medical matter".
In case you're scratching your head about all this, Robin Cook, as many know, was possibly the fiercest critic of the Iraq invasion amongst Labour's senior politicians. As he'd been Foreign Minister throughout Tony Blair's first term in office (1997-2001), he obviously had first-hand knowledge of intelligence related to Iraq, WMDs and threats (real or imaginary) from abroad. This is why he was particularly aware that Blair was hitting a bum note with the botched intelligence that lead to the infamous 45-minute claim. In protest against the invasion of Iraq, Robin Cook resigned from the cabinet in 2003. Four weeks before his death, he'd caused a minor stir when he relied on his previous knowledge as Foreign Minister to write in The Guardian:
"Al-Qaida, literally "the database", was originally the computer file of the thousands of mujahideen who were recruited and trained with help from the CIA to defeat the Russians".
written by Stan Moss at 1:09 PM
9 comments:
Le Mans said...
Pleased to see someone's writing about it. I remember not being fully convinced when it happened back in 2005. When intelligence matters and high-level secrecy are at stake nothing should be ruled out.
5:07 PM
Prestonshire said...
The Blair government? I wouldn't put anything past them. If they could lie shamelessly about carpet bombing and invading a country and signing ludicrously expensive contracts for reconstruction, then they can do anything.
7:40 PM
Anonymous said...
oh no! Another paranoid lot. People just die, and that includes politicians and celebrities alike, such as Marilyn Monroe, JFK and Elvis. It doesn't have to be a conspiracy. Accidents do happen and the intelligence services dont employ half of the population. Let Cook and Kelly rest in peace.
PS Lotsof folk go on trekking up Ben Stick -its not as unusual as you make it sound.
7:51 PM
Stan Moss said...
anonymous,
I started the article by carefully stating that accidents do happen and that I'm aware conspiracy theories often turn into mental stuff. I said exactly that.
I think people don't bother to read articles properly and just have knee-jerk fits of rage when they post comments!
7:58 PM
Anonymous said...
It was fishy. Dr Kelly docet.
9:44 PM
Andrew Simon said...
Whilst completely accepting that Robin Cook's death can easily be explained as being quite natural by simple medical reasoning, it's nevertheless true that he was the most senior critic of Mr Blair's claims about Saddam's WMD.
There's an interesting conjunction between Dr Kelly and Robin Cook contained in the evidence given by the BBC's Susan Watts to Lord Hutton at his inquiry:
Q. You were interviewing with him or talking to him because you were going to help preparation for an interview with Robin Cook. Did you discuss that at all?
A. Only briefly towards the end of the conversation. This was for an item I was putting together, a 4 minute item. I asked him what he would like to ask Robin Cook.
Q. What would he have liked to ask Robin Cook?
A. He just suggested that he should be asked why he was adamant in his position, Robin Cook's position.
Q. So adamant about his political position?
A. Yes, that there were no weapons to be found.
This kind of begs the question as to who it was who was actually briefing Robin Cook (and the FCO when he was there) about the so-called 'missing' WMD. You don't suppose that that could have been Dr Kelly himself by any chance do you? Or even that it was Robin Cook (whilst he was still in the Cabinet) who actually told Dr Kelly about Alastair Campbell and the 45 minute claim in the first place?
11:26 PM
Counting Crow said...
You may be interested in the following:
Norman Baker, Brighton Argus: "Nagging Doubts" over the death of Robin Cook.
http://www.theargus.co.uk/display.var.1327811.0.0.php
12:11 AM
Anonymous said...
Interesting article. It does make you think that the case was closed before even opening it. You'd have thought they'd have used more caution...?
12:44 AM
thepatriot said...
What is it abt all those critics of the WMD claim that make them walk all the way to remote forests or mountains ?
8:35 AM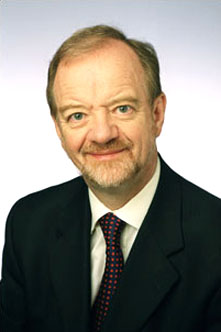 Robert Finlayson Cook (28 February 1946 – 6 August 2005), better known as Robin Cook, was a politician in the British Labour Party. He was Secretary of State for Foreign and Commonwealth Affairs of the United Kingdom from 1997 to 2001. He resigned from his post as Leader of the House of Commons and Lord President of the Council on 17 March 2003 in protest against the 2003 invasion of Iraq. At the time of his death he was president of the Foreign Policy Centre and a vice-president of the America All Party Parliamentary Group and the Global Security and Non-Proliferation All Party Parliamentary Group.


Norman Baker says
lies have been told
Murder theory that just won't go away
11:39am Friday 13th April 2007
The greatest British conspiracy theory of the modern age was unveiled this week. Lewes MP Norman Baker set out in detail for the first time why he believes the secret service murdered the Government scientist Dr David Kelly.
MILES GODFREY and KATYA MIRA report on a one-man crusade for the truth which has catapulted an unassuming Parliamentarian into the international spotlight.
It was the start of 2006 and the time was right to bring down the British Government.
In March last year Norman Baker, serial thorn in the side of the establishment and by his own admission "not the Prime Minister's favourite person", resigned his role as a frontbench MP for the Liberal Democrats.
It was a typically low-key announcement, timed to coincide with the anointment of the party's new leader Sir Menzies Campbell.
The time had come, the MP said, for a new man to take over.
But to those who knew Norman Baker, the decision to resign was made for another reason.
It would allow him more time to do what he does best: investigate, challenge, push, probe - specifically into the death of weapons expert Dr David Kelly. He was about to embark on an amazing investigation into the murky world of secret service agents, national security and the death of the man who very nearly halted the start of the war in Iraq.
If he could prove conclusively that members of the Government had conspired to get rid of Dr Kelly, it would have been - and still could be - the biggest single scandal this country has ever known.
The official report into the death of Dr David Kelly concluded he committed suicide after a row between the BBC and the Government over the "sexed up" dossier on Iraq's supposed weapons of mass destruction thrust the normally private scientist into the glare of the limelight.
But Mr Baker didn't believe a word of it. He said at the time: "The public out there can smell a rat and they don't think it's finished business either."
The scientist's death was, the MP said, just too convenient, too riddled with inconsistencies and so unlike a man like Dr Kelly.
His year-long investigation culminated on Wednesday night at a meeting at which he proclaimed Dr Kelly had been murdered and set out his evidence.
Mr Baker told a packed community hall in Lewes: "I am convinced beyond a reasonable doubt that this could not be suicide.
"The medical evidence does not support it and David Kelly's state of mind and personality suggests otherwise.
It was not an accident so I am left with the conclusion that it is murder."
He told of how the world's leading WMD expert had spent the morning before his death sending "upbeat emails" and even booking himself a flight to Iraq from his rural home in Southmoor, near Oxford.
Mr Baker questioned the cause of death - a haemorrhage caused by cuts to the ulnar artery in the wrist.
He said such wounds were "matchstick thick" and hidden, difficult to get to, as well as rarely leading to death.
The knife said to have been used was a gardening pruner Dr Kelly had kept since childhood - an unlikely and blunt choice.
Paramedics have said he had lost little blood and was "incredibly unlikely" to have died from the wound they saw.
Police said 29 tablets of the painkiller Coproxamol were missing from his home but all that was found in Dr Kelly's stomach was the equivalent of one fifth of a tablet.
The MP told The Argus: "It has taken more than a year to investigate and it has been an incredible and fascinating journey which has taken a large number of twists and turns.
"I have met experts on weapons of mass destruction in Brussels and uncovered more evidence about the lies the Government told about weapons of mass destruction before the war."
Along the way Mr Baker has had personal run-ins with high-profile Government figures, not least Tony Blair.
He said: "I wouldn't say it has been easy, certainly the Foreign Office has done a lot to put obstacles in my way and other people have too. It has been hard work but at the same time it has been extremely worthwhile."
He has also been hugely encouraged by the public, who he claims can see Dr Kelly's death for what he says it was. Mr Baker said: "There is a world in Westminster and the rest of the world and I think most people in the public world can see that Dr Kelly was murdered.
"He was the world's foremost expert on weapons of mass destruction who could single-handedly destroy the Government's case for war so it was no wonder he was killed.
"It may have also been intended as a message to other people out there who speak to the press when the Government doesn't want you to.
"I was appalled at his death and at the Hutton Inquiry into it. It was a procedural disaster from start to finish and I felt compelled to look into it."
Mr Baker has signed a book deal to explain in greater detail his findings on Dr Kelly's death and he expects to publish it later this year.
But the MP insists he will continue to investigate.
He has nagging doubts about the official line taken over the recent Navy hostages taken in Iran and over the death of Robin Cook, the MP who resigned in protest at the Iraq war.
He said: "Robin Cook was on Ministry of Defence land, I believe, when he died and certainly I have doubts over what happened."
There are those, of course, who doubt Norman Baker's theories.
But for every person out there who does there are an equal number for whom the MP has become a beacon of truth in an increasingly murky world.
South Ossetia, manipulation: Images of war, war of images
Thursday August 28 2008 - 14:25
A few days after these pictures had been analyzed by the Russian blog
Russia Inside Out
and the Serbian blog
Byzantine blog
as fake ones, staged by the photographer David Mdzinarishvili, some of them have been simply removed from the website of Reuters. Here the deconstruction made by
Byzantine blog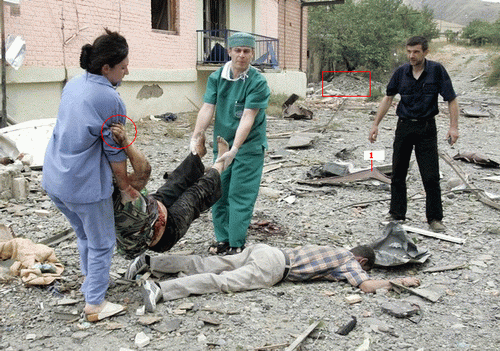 This photo was first published by the Reuters as an image of a "dead woman being carried from the town of Gori". But this "dead woman", incredibly, is clutching the nurse's arm.
http://bellaciao.org/en/spip.php?article17284