US presidential nomination campaigns remain deadlocked after January 19 votes
By Patrick Martin 21 January 2008
The results of Saturday's Republican presidential primary in South Carolina and Republican and Democratic caucuses in Nevada have done little to resolve the contests for the two parties' presidential nominations. Senator Hillary Clinton and Senator Barack Obama remain in a close race for the Democratic nomination, while there remain four politically viable contenders within the fractured Republican contest. Clinton won a narrow victory in the Nevada caucuses, taking 51 percent of the county delegates elected at nearly 1,000 precinct-level caucuses. Obama won 45 percent, while former senator John Edwards received only 4 percent of the county delegates—reflecting his failure, at most of the precinct caucuses, to make the 15 percent threshold required to receive delegates.
Because of the geographic distribution of the vote, Obama will likely win more Nevada delegates to the Democratic National Convention than Clinton. He won every county in the state except one—Clark County, which includes Las Vegas, and accounts for 70 percent of the statewide vote. Obama defeated Clinton among rural, small-town and upscale suburban voters, but lost decisively in urban working-class areas, except in a few largely black working-class precincts in Las Vegas.
A significant feature of the Nevada caucuses was the effective repudiation of the Culinary Workers Union by its own members, who voted by a sizeable majority for Clinton, although the union leadership endorsed Obama last week. The Clinton campaign complained loudly about the special provisions made to allow casino workers to attend caucuses on the job, and their own union supporters went to court in an unsuccessful attempt to prevent these caucuses from taking place. But in the end, Clinton won seven of the nine casino caucuses, and 268 of the county delegates chosen at these meetings, compared to 224 for Obama.
Post-election media commentary focused on the alleged racial polarization in the voting, citing exit polls that showed Clinton winning Hispanic voters by 64-27 percent and white voters by 51-38 percent, while Obama won among black voters 83-14 percent. There were numerous projections that if such a pattern holds in the February 5 "Super Tuesday" primaries in California, Arizona, Colorado, New York and New Jersey, all states with large numbers of Hispanic voters, Clinton would win a decisive victory.
This is a continuation of the effort to use race as a reactionary political diversion from the real issues facing working people in the United States, issues which are not seriously addressed by the presidential candidates of either party: the deepening US economic crisis, the growth of social inequality, mounting attacks on democratic rights, and the escalation of US militarism in Iraq and more widely in the Middle East and Central Asia.
In the last Democratic candidates' debate before the Nevada vote, held Tuesday in Las Vegas, Obama virtually dropped any criticism of Hillary Clinton for her vote to authorize the war in Iraq, and all three participants, Edwards, Obama and Clinton, agreed that US troops would remain in or near Iraq for the indefinite future. This lineup demonstrates that, as in 2004, the ruling elite is manipulating the presidential campaign to ensure that there is no outlet for popular antiwar sentiment in the two major parties.
On economic and social issues, moreover, Obama has positioned himself slightly to the right of Clinton, not to her left. Clinton took advantage of this in Nevada, focusing largely on the economy. Her vote was at least in part a reflection—distorted as it is by the reactionary framework of bourgeois politics—of the growth of popular anxiety over jobs, declining real wages, and widespread bankruptcies and home foreclosures, the last of which is particularly acute in the Las Vegas area.
Obama also damaged his own prospects with an interview with the Reno Gazette-Journal, in which he described former President Ronald Reagan as a figure who transformed American politics and turned the Republican Party into "the party of ideas" for more than a decade.
While the supposedly vast popularity of Reagan is an article of faith in the political establishment and the corporate-controlled media, the truth is that the Reagan administration was hated by broad sections of the working class, and it still is by those who lived through it. Clinton repeatedly attacked Obama's comment in the days leading up to the caucus. "I don't think it's a better idea to privatize Social Security," she said in one appearance at a Las Vegas printshop. "I don't think it's a better idea to try to eliminate the minimum wage."
More telling than the narrow victory by Clinton over Obama was the vast disparity between the two big business parties in the turnout for the caucuses. More than 120,000 attended the Democratic caucuses, up from 9,000 in 2004, and nearly triple the 44,000 who attended Republican caucuses. The gap is all the more significant in a state which George W. Bush carried narrowly in 2000 and 2004.
Former Massachusetts governor Mitt Romney won the straw poll at the Republican caucuses, taking 51 percent of the vote in an event that did not commit the state's delegates and was not contested by most of his rivals. Congressman Ron Paul of Texas took 13 percent of the vote and Arizona's Senator John McCain 12 percent.
Romney's victory was his third of the campaign, following the January 15 primary in Michigan and poorly attended and largely uncontested caucuses in Wyoming January 5. Romney leads in national convention delegates, but his Nevada victory was largely overshadowed by the results of the South Carolina Republican primary, won by McCain by a narrow margin over former Arkansas governor Mike Huckabee, 33 percent to 30 percent. Former senator Fred Thompson of Tennessee and Romney trailed with 14 percent and 13 percent respectively.
McCain's result in South Carolina was less than impressive. Running even with Huckabee among Republican voters, with 30 percent each, McCain took the lion's share of the small independent vote to gain his narrow three-point margin of victory.
McCain actually received far fewer votes winning the state in 2008 than he did in his losing race in 2000, when he was defeated by George W. Bush by a margin of 53-42 percent. His vote total Saturday was about 140,000, just over half of the 240,000 votes he garnered eight years ago. The overall turnout in the Republican primary fell from 550,000 in 2000 to barely 400,000 this year.
The Huckabee-McCain race was described in one media commentary as "Christian soldiers vs. old soldiers," since Huckabee targeted fundamentalists and McCain appealed to the state's large population of veterans and retired military. That Huckabee lost this contest was largely owing to the efforts of Thompson, who focused his campaign in the same upstate areas where the Republican Party is dominated by evangelical voters. The former Arkansas governor was held to 40 percent of the evangelical vote, compared to well over 60 percent in Iowa, where he won the party caucuses January 3.
The Huckabee-Thompson contest included brazen appeals to fundamentalist and right-wing bigotry. Huckabee came out in defense of public displays of the Confederate flag, and compared same-sex marriage to bestiality. Thompson responded by denouncing Huckabee for referring to the US Constitution as "a living, breathing document." He said this represented a departure from a literal interpretation, and was "precisely the kind of wrong-headed thinking about the Constitution that gave us Roe v. Wade, which legalized abortion across our nation, and Lawrence v. Texas, which decriminalized sodomy."
After finishing a poor third in a race he had declared critical, Thompson left South Carolina to fly back to his home in the Washington DC area, rather than move on to Florida, where the next Republican primary election is set for January 29. His campaign has no schedule for the upcoming week and there is widespread speculation that he will drop out of the contest and endorse McCain. Thompson was the national co-chairman of McCain's unsuccessful campaign for the 2000 Republican presidential nomination.
This sets up a likely four-way contest in Florida, where the primary is closed—i.e., only registered Republicans, not independents, may vote—a restriction that hurts McCain. There is no clear favorite among McCain, Huckabee, Romney and former New York City mayor Rudolph Giuliani.
The Florida primary is winner-take-all, meaning that a candidate could win as little as 30 percent of the vote in a four-way race and still receive 100 percent of the state's delegates to the Republican National Convention.
All four of the Republican survivors have significant obstacles to winning the nomination. McCain is widely opposed within the party establishment and by right-wing media pundits. Talk radio host Rush Limbaugh, for instance, fulminated that if McCain or Huckabee were nominated, "It's going to destroy the Republican Party. It's going to change it forever, be the end of it."
Romney is by far the best financed, owing to his huge personal fortune and connections in the world of venture capital, but he trails badly in national polls, despite having spent $10 million more than any other candidate to promote himself. He has also been the target of anti-Mormon bigotry on the part of the Christian right.
Huckabee's campaign has no money or staff, a critical issue going into the February 5 "Super Tuesday" primaries, many of them in states like New York and California, where evangelical Christians are less numerous than in the South. Giuliani has finished sixth in five of the first six contests, where he did little campaigning, while focusing his efforts on Florida.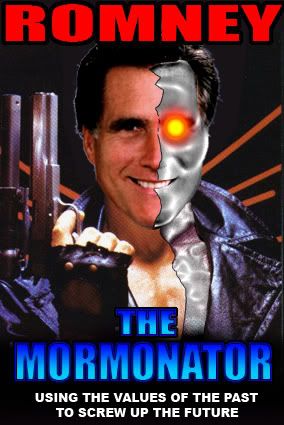 2008 presidential charade promises deepening of government criminality and expansion of war
by Larry Chin
Every election in modern US history has been a criminal manipulation, choreographed and rigged by political elites and performed by hand-picked elite puppets, each backed by their teams of corrupt war criminals, intelligence/security "advisors" and think tank assets. The 2008 affair will be no different.
It is time once again to dispel the mass insanity and unfounded hopes as another fresh election hell ensues. There will be no savior, no end to the continuing world crisis, and absolutely no "change."
The monsters behind each candidate
As the American public once again gets swept up into another beyond, ridiculous carnival over which "presidential personality" is most "likeable," which preselected puppet makes a better speech, etc., there is little or no attention paid to the individuals behind each candidate; the forces that are pulling the strings, and actually setting the geopolitical agenda.
The Washington Post has provided a complete list of each puppet's respective "masters," which must be studied line by line:
The War Over The Wonks: A list of national security and foreign policy advisors to the leading presidential candidates from both parties
This list holds the key to the central issue: war.
As the names reveal, every major candidate (the favored puppets with any real chance of being selected) fronts for agendas set by current and former neoconservative and neoliberal "security" officers and politicos, members of the Bilderberg Group, the Trilateral Commission and the Council on Foreign Relations, and apparatuses such as the Heritage Foundation, the Center for Strategic and International Studies, the Brookings Institution, AIPAC, the Hoover Institution, the American Enterprise Institute, and others.
Some of the most nightmarish individuals who walk the earth today can be found behind the candidates, as follows:
John McCain
Richard Armitage, former deputy secretary of state, covert operative and lifelong Bush ally
Robert "Bud" McFarlane, Reagan/Bush national security adviser, Iran, Contra
William Kristol, editor of The Weekly Standard (neocon)
Alexander Haig, Reagan/Bush secretary of state
George Shultz, Reagan/Bush secretary of state, Hoover Institution, Bechtel
Brent Scowcroft, Ford, George H.W. Bush national security adviser

James Woolsey, former CIA director
Lawrence Eagleburger, George H.W. Bush secretary of state
William Ball, Reagan administration Navy secretary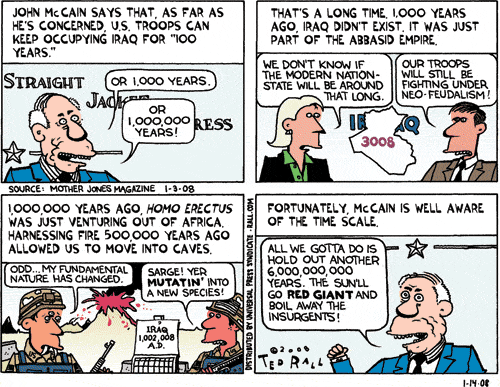 Barack Obama
Anthony Lake, Clinton administration national security adviser
Sarah Sewall, Clinton administration deputy secretary of defense, counter, insurgency czar
Richard Clarke, Clinton and Bush administration counter, terrorism czar
Susan Rice, Clinton administration Africa specialist and NSC member, Brookings
Bruce Riedel, former CIA officer, NSC Near East and Asian affairs, Brookings
Hillary Clinton
Madeline Albright, Clinton administration secretary of state
Sandy Berger, Clinton administration national security adviser
Richard Holbrooke, Clinton administration UN ambassador
Gen. Wesley Clark, Clinton era Kosovo commander
Leslie Gelb, Council on Foreign Relations, former State and Defense Department official
Martin Indyk, Clinton administration Israel ambassador, Brookings
Strobe Talbott, Clinton administration deputy secretary of state, co, creator of Caspian oil "6+2" group, Brookings
Jeffrey Smith, former CIA general counsel
Rudy Giuliani
Kim Holmes, former George W. Bush assistant secretary of state, Heritage Foundation
Louis Freeh, former FBI director
Stephen Yates, former deputy assistant to Dick Cheney
Norman Podhoretz, Hudson Institute (neocon)
Kenneth Weinstein, Hudson Institute
Numerous individuals connected to the neocon Hoover Institution and Heritage Foundation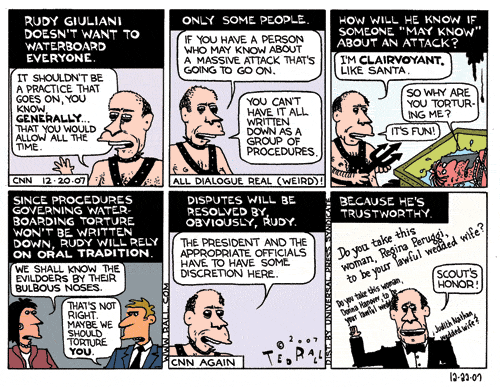 Mike Huckabee
Huckabee has been secretive about his team. Among the names floated so far:
Ed Rollins, Republican operative
John Bolton, George W. Bush U.N. ambassador (as of this writing, Bolton's participation is a strong rumor)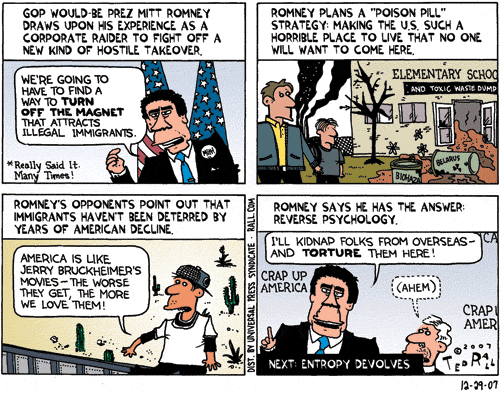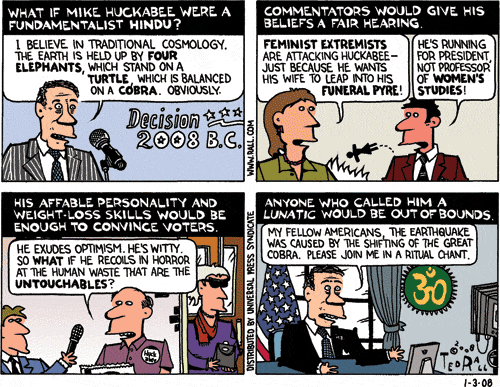 John Edwards
Edwards boasts a large team of career military/intelligence officers, most of whom are "rank and file." Among the more notable names:
Barry Blechman, Jimmy Carter assistant director of US Arms Control and Disarmament Agency, founder and chairman of the Henry L. Stimson Center
Irving Blickstein, former assistant deputy chief of Naval operations, RAND Corporation
Mitt Romney
Cofer Black, former CIA and George W. Bush state department counter, terrorism officer, vice president of Blackwater USA
Alberto Cardenas, lobbyist and former chairman of Florida Republican party
Roger Noriega, George W. Bush assistant secretary for Western hemisphere affairs
Rep. Pete Hoekstra (R, Mich.), ranking member, House Intelligence Committee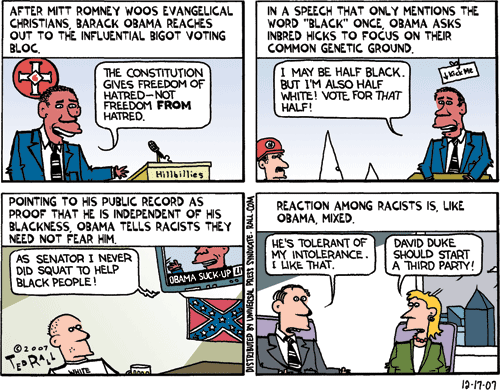 The choice of the puppet masters
As noted by Daniel Estulin in The True Story of the Bilderberg Group, the masters of "one world government," whose members manipulate all elections, seek the following main objectives: 1) one international identity, or "internationalism," 2) centralized control of people, 3) a zero growth, post industrial society, 3) a state of perpetual world imbalance, 4) centralized control of all foreign and domestic policies, 5) empowerment of the United Nations and NATO, and 6) Anglo, American, controlled trading bloc.
While it is still too early to ascertain the final choice of the leading world-shaping groups (Bilderberg, Trilateral Commission, Council on Foreign Relations, etc.), it is clear, from the above lists, that the approved White House puppets are already the "front runners."
While true representatives of "change" such as Dennis Kucinich, Cynthia McKinney and Ron Paul, stand no chance (and whose "votes" would be systematically erased in any case), the only remaining puppets, and their respective teams, are proven supplicants of the existing war and industrial elite.
It goes without saying that the Republican candidates, particularly John McCain, is deeply connected to the worst elements, most prominently, Henry Kissinger. Barack Obama's elite connection speaks for itself: Zbigniew Brzezinski.
McCain's participation in the 1980s savings and loan scandal, as a member of the infamous Keating Five, is a matter of historical fact.
Also a matter of record are McCain's brutal views on war and killing, which are best exemplified by his 2001 op, ed, War is Hell. Now Let's Get On With It.
There is no better crystallization of McCain than his own blood, soaked words.
It is well known that both of the Clintons are long time members of Bilderberg. As noted by Daniel Estulin, John Edwards, who currently postures as a "populist," was handpicked by Henry Kissinger (who now works behind John McCain) to be John Kerry's vice presidential candidate in 2004. Now, four years later, his connections must have certainly increased.
Here comes the "even more aggressive 'war on terrorism'"
It's clear from the chosen "candidates," there will be no end to the war, or the continuing decline of the American empire.
The "war on terrorism" will not only continue but likely intensify and expand under "new management." The only question is whether the bias will be towards a neoliberal brand, , , the "more nuanced" multinational New World Order, a "bipartisan consensus" in Washington, more orderly economic and political declines, etc. . . . .or a continuation of the open brutality and criminality of Bush-Cheney.
Violent events, including the assassination of Bhutto in Pakistan, and other such "9/11s," stack the deck towards the latter . . . McCain and Giuliani.
The Republican candidates have uniformly and consistently echoed the Bush/Cheney/neocon war agenda and 9/11/"terrorism" lies. Huckabee, the bizarre dark horse of the Republican side, has voiced criticism of some Bush-Cheney policies, but not the "war on terrorism" in general.
The Democratic candidates have each declared themselves the champion "anti-terrorist," or the "real" anti-terrorist that George W. Bush is not.
Obama's murderous views on war are well documented, and similar to those of Bush-Cheney. In addition to war on Iran, Obama has declared that he would attack Pakistan if his administration possessed "actionable intelligence" that Osama bin Laden was hiding in Pakistan, and the government there did not act.
Edwards, who squealed during his 2004 vice presidential debate with Dick Cheney that he would "kill the terrorists," recently reiterated: "If I, as president, know where Osama bin Laden is, I would go get him."
Clinton went even further into details about her particular war fantasy: "At some point, probably when the missiles have launched, the Pakistani government has to know they are on the way."
In the end, McCain's War is Hell. Now Let's Get On With It is the voice of the consensus . . . the 9/11 lie exemplified.
The vote count and other illusions
As noted repeatedly in this publication, every aspect of the American vote has been, and continues to be, manipulated.
It is still a fact is that corporations (primarily connected to the Republican political apparatus) control the American vote, and with increasing technological sophistication: Diebold, ESS, Sequoia, and SAIC. In fact, new generations of their machines will be used in 2008.
Beyond the courageous whistle-blowing and activism by the likes of Black Box Voting and others, the same democracy destroying criminal juggernaut that has been in place for generations remains in control.
The winner of the 2008 election: crime
As Mike Ruppert wrote in Crossing The Rubicon: "That profits of crime and war, which are destructive of human life, of labor, of happy, healthy neighborhoods (whether in the US or in Afghanistan, Africa and Iraq) are in effect a keystone of the global economy and a determinant of the success in a ruthless competition, is a compass needle for human civilization. One cannot expect to follow the recipe for roadkill stew and produce a crème brulee."
Criminals do not obey laws. Criminals do not believe in "democracy."
Criminals do not "permit" elections.
They will not permit an election in 2008. They will impose another one.
The 2008 election is a manipulation, rigged by political elites working behind sock puppet candidates. This fact is even more obvious when one follows the money.
What big money interests want
OpenSecrets.org is one vital resource that tracks campaign money flows in detail, and virtually in real time. Not surprisingly, both the mainstream corporate and so-called alternative media have devoted scant attention to this corruption.
As culled from the OpenSecrets.org list, here are some of the prominent corporate contributors behind leading candidates (as of 1/11/08):
Republicans
John McCain
Blank Rome LLP
Citigroup
Bank of New York Mellon
Merrill Lynch
Goldman Sachs
JP Morgan Chase
Credit Suisse
Lehman Brothers
Morgan Stanley
MGM Mirage
Univision
Mitt Romney
Bain Capital (note: Romney's own company)
Goldman Sachs
Merrill Lynch
Citigroup
Marriott
Kirkland & Ellis
Morgan Stanley
PriceWaterhouse
JP Morgan
UBS
Lehman Brothers
Rudy Giuliani
Ernst & Young
Credit Suisse
Merrill Lynch
Citigroup
Bear Stearns
Lehman Brothers
Bracewell & Guiliani (Guiliani's own firm)
Morgan Stanley
UBS
Milbank Tweed
Goldman Sachs
JP Morgan
Bank of America
Mike Huckabee
State of Arkansas
Wal-Mart
Tyson Foods
Morgan Stanley
Democrats
Hillary Clinton
DLA Piper
Goldman Sachs
Morgan Stanley
Citigroup
National Amusements
Emily's List
JP Morgan
Kirkland & Ellis
Skadden Arps
Merrill Lynch
Time Warner
Lehman Brothers
Bear Stearns
Ernst & Young
Blank Rome LLP
Barack Obama
Goldman Sachs
Lehman Brothers
National Amusements
JP Morgan
Exelon Energy (parent of Commonwealth Edison)
Citigroup
Citadel Investments
Credit Suisse
Skadden Arps
Morgan Stanley
Time Warner
UBS
Harvard University
John Edwards
Fortress Investment Group
Act Blue
Goldman Sachs
Skadden Arps
Deutsche Bank
Citigroup
This is the bare tip of the iceberg that OpenSecrets.org's database exposes. The site also tracks the money coming from lobbyists, wealthy individuals, and industries, cross-references money flows by industry, and updates the financial status of every campaign -- for those who bother to look it up. There is dirty money that is not even being reported.
What is clear is the fact that major corporations are collectively hedging their bets, financing both sides. For example, Citigroup, JP Morgan Chase, Goldman Sachs and Morgan Stanley have money behind every leading candidate. Lehman Brothers, Merrill Lynch, Bear Stearns, and UBS are also prominent players, in virtually all of the camps.
Corporate law and accounting firms, many of which are not household names (not all of them mentioned in this article), but well known in Washington and on Wall Street, are heavily involved with the campaigns -- assuring that the laws and the books will be cooked.
Look up the upper management of the companies, and the pattern is clear.
There is no illusion what the "election" really is, and whose hands are manipulating the sock puppets. Each sock puppet serves the world's upper management, and uses the populace as cannon fodder.
All the talk of "campaign finance reform," "fighting special interests," particularly from the corrupt John McCain (who is enthusiastically mainlining funding as you read this), is just that: talk.
The candidates are lying. The prospective puppets with the real chances of being selected are career liars to begin with.
Cultural abyss reflected in celebrity support
Election insanity also breeds a cultural sickness that worsens by the day.
The ignorant, acquiescent, uninformed and often painfully stupid mass US populace not only marches to the beat set by a blatantly corrupt corporate media, it further adds to its self-destruction by aping the political views of wealthy Hollywood celebrities -- who are themselves painfully ignorant and misguided individuals, making asinine decisions with their celebrity power and mega-fortunes.
Here are some of the Hollywood celebrities behind the leading candidates, from the article Candidates hoping star power shines on them [San Francisco Chronicle, 1/11/08]:
Hillary Clinton
Barbra Streisand
Steven Spielberg
Barack Obama
Oprah Winfrey
David Geffen
Stevie Wonder
Mitt Romney
Pat Boone
Robert Bork (not a celebrity, but a notorious Republican)
Donnie Osmond
Marie Osmond
Rudy Giuliani
Dennis Miller
Adam Sandler
John McCain
Curt Schilling
Wilford Brimley
Rip Torn
John Edwards
Danny Glover
Kevin Bacon
Mike Huckabee
Chuck Norris
Ron Jeremy
Ted Nugent
Celebrities -- whose fame is known around the world, and who possess the cultural power to shape mass consciousness -- are helping the darkest forces drive the American empire deeper into the abyss. The average American, who doesn't read and won't bother to understand reality, simply follows Oprah, Steven Spielberg and Donnie & Marie, straight into hell.
Is it any wonder that, in this celebrity gossip-driven culture, a laughable crying act by the mega-corrupt Hillary Clinton successfully convinces some people that she is "genuine," therefore "presidential"?
Here's another example of shenanigans that few seem to understand: the Clinton's open insult of Martin Luther King, Jr., was a calculated move, not a gaffe. It's the old southern strategy, which Bill Clinton used successfully before. Piss off African-Americans (who are disenfranchised anyway), pick up some "cracker" votes and support, particularly with the reference to LBJ, garnering enough support to beat out Obama.
Against this total dearth of critical faculties, people are largely ignoring evidence that the New Hampshire primary results were manipulated, in outright Bush-Cheney 2000 fashion, right in front of their faces. And the average American still believes in elections and "democracy."
The election has not "just begun." It's been over for a long time.
It is literally insane to spend one cent on any of the candidates, or their machines. It is insane to engage in beyond-ridiculous campaign nonsense that exhausts energy, in pursuit of illusions and false hopes.
Ignore the rhetoric and follow the money. Look up the corporations and, in particular, at the names on the boards of directors of each one. Look up the elites who are managing the sock puppets.
Ask Henry Kissinger who will "win." He knows.