9/11/2008 Truther Beach Protest (San Diego, CA)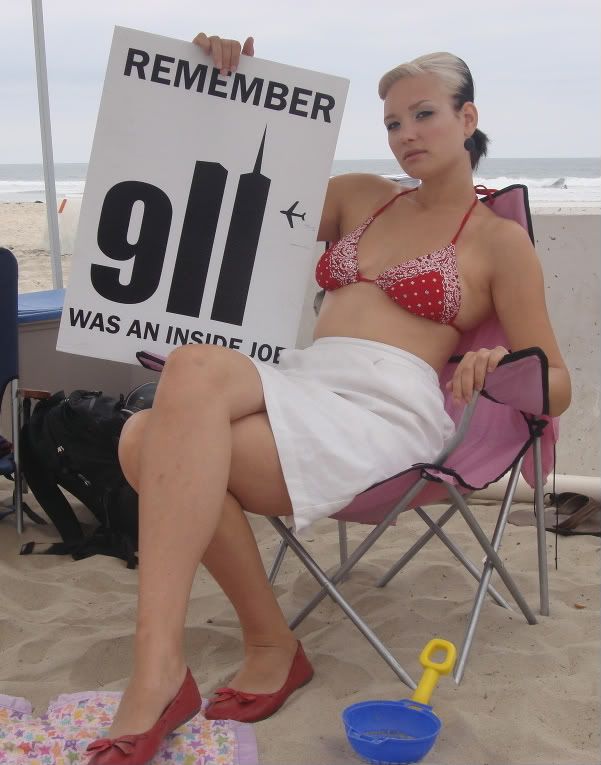 911 truth
Besides a bunch of Marines showing up on the beach next to our beach tent (See video below), the locals and tourists were quite receptive. We gave away a couple hundred DVDs and had many interesting and constructive conversations.
Intellectuals Wanted
(Back)
Buy these cards in bulk in the Truther store and distribute!

New RussiaToday Poll has 87% Distrusting 9/11 Story
picked up at:
http://www.russiatoday.com/poll/vote/377
September 14, 2008

Poll results
question:
Do you believe the report of the official commission on 9/11?
| | | |
| --- | --- | --- |
| Yes, they did great job collecting evidence | | |
| No, they are deliberately hiding the truth | | |
don't forget -- 9/11 was done by high-tech illusion, the rocket that was carrying a hologramm of a 76 boeing passenger aeroplane was still illuminated when it exited the other side, therefore the NOSE OUT that is visible from
MULTIPLE CAMERA LOCATIONS
.
http://u2r2h-documents.blogspot.com/2008/01/luc-courchesne-911-ua-175-hologram.html
http://u2r2h-documents.blogspot.com/2007/10/911-hologram-theory.html