EXPLOSIVE! Gaddafi wants to disolve Switzerland!
... because of Switzerland's support for international terrorism!
He plans to publicly present proof that the
swiss government, its intertwined
corporations and banks are terrorists!!
The solution to take care of such a lawless
state is to disolve the WHOLE COUNTRY
and split it up. The german-speaking part
will be joining Germany, the french area
goes to France and the Italian province
can be assimilated by Italy!
In this way the rule of law is restored!!
peace for the citizens and jail terms for the criminals!!

There is a history:

John Foster and Allen Dulles - These two brothers "designed" the CIA for Clifford. Both were active in intelligence operations during WW II. Allen Dulles was the U.S. Ambassador to Switzerland where he met frequently with Nazi leaders and looked after U.S. investments in Germany. John Foster went on to become Secretary of State under Dwight Eisenhower and Allen went on to serve as CIA Director under Eisenhower and was later fired by JFK.
Of course Libya is innocent of the Lockerbie bombing!!
There were at least four U.S. intelligence officers on the passenger list, with rumours, never confirmed, of a fifth onboard. The presence of these men on the flight later gave rise to a number of conspiracy theories, in which one or more of them were said to have been targeted
Matthew Gannon, the CIA's deputy station chief in Beirut, Lebanon, was sitting in Clipper Class, Pan Am's version of business class
seat 14J. Major Chuck "Tiny" McKee, an army officer on secondment to the Defense Intelligence Agency (DIA) in Beirut, sat behind Gannon in the center aisle in seat 15F. Two Diplomatic Security Service special agents, acting as bodyguards to Gannon and McKee, were sitting in economy: Ronald Lariviere, a security officer from the U.S. Embassy in Beirut, was in 20H, and Daniel O'Connor, a security officer from the U.S. Embassy in Nicosia, Cyprus, sat five rows behind Lariviere in 25H, both men seated over the right wing. The four men had flown together out of Cyprus that morning. There was also a Department of Justice Special Agent on the flight, Assistant Deputy Director Michael S. Bernstein.
In his 1994 film The Maltese Double Cross, Allan Francovich suggested that rogue CIA agents were implicated in a plot that involved them turning a blind eye to a drug running operation in return for intelligence. Evidence presented at Megrahi's trial, together with concerns about the reliability of his conviction, spawned a theory that Libya was framed.
U.S. Central Intelligence Agency (CIA) agents had set up a protected drug route from Europe to the United States -- allegedly called Operation Corea -- that allowed Syrian drug dealers, led by Monzer al-Kassar (who was involved with Oliver North in the Iran-Contra scandal) to ship heroin to the U.S. using Pan Am flights, in exchange for intelligence on Palestinian groups holding hostages in Syria. The CIA allegedly protected the suitcases containing the drugs and made sure they were not searched. On the day of the bombing, as the theory goes, terrorists exchanged suitcases: one with drugs for one with a bomb.
Time introduced another version of this theory, claiming that the American intelligence officers on PA 103 -- Matthew Gannon and Maj. Charles McKee -- had found out about the drug operation, and were headed to Washington to raise their concerns about its impact on their hostage rescue plans.
Juval Aviv introduced a variation of this story in October 1989. Aviv was the owner of Interfor Inc, a private investigation company based on Madison Avenue, New York. Aviv claimed to be a former Mossad officer who led the Operation Wrath of God team that assassinated members of Black September who were believed to have been responsible for the Munich Massacre in 1972. According to his theory, the CIA knew in advance that the baggage exchange would take place, but let it happen anyway, because the protected drugs route was a rogue operation, and the American intelligence officers on PA 103 -- Matthew Gannon and Maj. Charles McKee -- had found out about it, and were on their way to Washington to tell their superiors.
After PA 103, Aviv was employed by Pan Am as their lead investigator for the bombing. He submitted a report (the Interfor report) in October 1989, blaming the bombing on a CIA-protected drugs route (Barrons December 17, 1989). This scenario provided Pan Am with a credible defense against claims for compensation by relatives of victims, since, if the U.S. government had helped the bomb bypass Pan Am's security, the airline could hardly have been held liable. The Interfor report alleged inter alia that Khalid Jafaar, a Lebanese-American passenger with links to Hezbollah, had unwittingly brought the bomb on board thinking he was carrying drugs on behalf of Syrian drug dealers he supposedly worked for. However, the New York court, which heard the civil case lodged by the U.S. relatives, rejected the Interfor allegations for lack of evidence. Aviv was never interviewed by either the Scottish police or the FBI in connection with PA 103.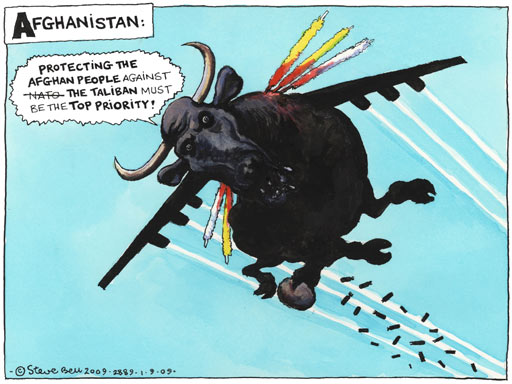 Afganistan Bullsh... Another Mass-murdering Western Oligarchy Lie.
In 1990 the protected suitcase theory was given a new lease of life by Lester Coleman in his book Trail of the Octopus. Coleman was a former journalist-turned-intelligence agent working with the Drug Enforcement Administration (DEA) while employed by Defense Intelligence Agency (DIA) in Cyprus. Coleman claimed to have seen Khalid Jafaar in the DEA office in Nicosia, Cyprus once again implying that Jafaar was a drugs mule, but this time for the DEA instead of Syrian drug dealers. In 1997, Coleman pleaded guilty to five counts of perjury in a Federal court after admitting that he submitted a false testimony in a civil litigation brought on behalf of the families of passengers killed in the bombing.
Coleman's theory gained impetus when British journalist Paul Foot wrote a glowing review of Coleman's book for the London Review of Books. But on March 31, 2004 -- four months before his death -- Foot reverted to the orthodox Iran/PFLP-GC theory in an article he wrote for The Guardian entitled "Lockerbie's dirty secret". In 2003 former CIA Officer Edwin Wilson's sudden release from prison confirmed Coleman's claims that the CIA played a role in the bombing. A federal judge freed Wilson, ruling his 27 year incarceration was illegal, and that he was working for the CIA when he supplied Middle East terrorist cells with explosives, something the CIA had denied.
The previously-mentioned 1994 documentary film The Maltese Double Cross -- Lockerbie, which included interviews with Lester Coleman and Juval Aviv, seemed to favour a hybrid version embracing both the CIA-protected suitcase and the drugs mule versions of the theory. Shortly after the film was broadcast by Channel 4 television on 11 May 1995, Aviv was indicted on fraud charges. Aviv was quick to claim that these were trumped-up charges, and in due course they were dropped. The film can be viewed on the internet here by scrolling down to Allan Francovich - The Maltese Double Cross
At the end of the Pan Am Flight 103 bombing trial an international observer appointed by the United Nations, Hans Köchler, called the verdict a "spectacular miscarriage of justice"
According to conspiracy theorist and self-styled private investigator Joe Vialls, who died in July 2005, the bomb on PA 103 was triggered not by a simple timing device, but by a more complex technique of radio detonation.
The Vialls theory relies on the assumption that the aircraft was handed over to a different air traffic control center when it passed over the Dean Cross navigational beacon, requiring it to communicate on one of the 22 frequencies used by Shanwick Oceanic Control. Maid of the Seas would then have been flying at about 500 mph between Dean Cross beacon and where it crashed on the town of Lockerbie, an overall distance of 30 miles (48 km) representing a point-to-point flight time of barely four minutes. As PA 103 passed overhead the Dean Cross beacon, a light would have flashed on in the cockpit alerting the pilots to change frequency in order to obtain permission for the Atlantic crossing from Shanwick Oceanic Control at Prestwick, Scotland.
Using standard reaction times, according to Vialls, it would have taken between three and five minutes for the crew to be ready to communicate on the new frequency. In its PA 103 report, the Air Accident Investigation Branch (AAIB) stated:
"At 18.58 hrs the aircraft established two-way radio contact with Shanwick Oceanic Control on frequency 123.95 MHz. At 19.02:44 hrs the clearance delivery officer at Shanwick transmitted to the aircraft its oceanic route clearance. The aircraft did not acknowledge this message and made no subsequent transmission." The AAIB report continued: "The cockpit voice recorder tape was listened to for its full duration and there was no indication of anything abnormal with the aircraft, or unusual crew behaviour. The tape record ended, at 19.02:50 hrs ± 1 second, with a sudden loud sound on the cockpit area microphone channel followed almost immediately by the cessation of recording whilst the crew were copying their transatlantic clearance from Shanwick ATC."
The Vialls radio detonation theory puts forward two different triggering mechanisms:
* A remotely controlled bomb in the aircraft that was triggered by a radio signal sent from outside the aircraft
* A sophisticated device onboard the aircraft that monitored multiple variables including time and the use of specific air-traffic control frequencies by the aircraft.
Vialls cited the following example of how the Israelis used the technique of radio detonation: In the late 1980s, Israeli intelligence managed to obtain the cellular phone of Yahya Ayyash by fooling him into believing that his phone had a fault; the phone was booby-trapped with explosives when he brought it in for repairs, then subsequently detonated by a signal sent over the Israeli-controlled mobile phone network when he answered it.
According to Vialls, the inside of a Boeing 747 is a Faraday cage, which would ensure that secondary emissions -- from the captain's radio message to Shanwick Oceanic Control, for example -- would be sufficient to activate the radio trigger of the bomb. Thus, the PA 103 bomb could have been triggered by an internally-generated command radio signal transmitted to or received from Shanwick. However, Vialls believed that the extent of the damage caused to the aircraft meant that the bomb was probably positioned close to the fuselage, rather than -- as the prosecution maintained at the trial -- being wrapped in clothing, packed in a suitcase and loaded inside a baggage container.
Vialls himself blamed the Israeli Mossad for the PA 103 bombing. This fitted with the general theme of Vialls's investigations: he blamed Israel and Mossad for a variety of international disasters and events, including the 2004 Asian Tsunami and the death of Diana, Princess of Wales.
Pre-9/11 Put Options on Companies Hurt by Attack Indicates Foreknowledge
Financial transactions in the days before the attack suggest that certain individuals used foreknowledge of the attack to reap huge profits. 1 The evidence of insider trading includes:
* Huge surges in purchases of put options on stocks of the two airlines used in the attack -- United Airlines and American Airlines
* Surges in purchases of put options on stocks of reinsurance companies expected to pay out billions to cover losses from the attack -- Munich Re and the AXA Group
* Surges in purchases of put options on stocks of financial services companies hurt by the attack -- Merrill Lynch & Co., and Morgan Stanley and Bank of America
* Huge surge in purchases of call options of stock of a weapons manufacturer expected to gain from the attack -- Raytheon
* Huge surges in purchases of 5-Year US Treasury Notes


US GI bikini patrol in Somalia
Lady DI with german 9mm machinegun Heckler and Koch
Read more:
http://u2r2h-documents.blogspot.com/2007/12/gaddafi-beautiful-bodyguard-virgins.html
http://u2r2h-documents.blogspot.com/2007/12/gaddafi-beautiful-bodyguard-virgins.html
In an
interview
published in the New York Times, Ajami stated:
"'It's showing the notion of the female bodyguard as being these women who are liberated and how it extends to all sectors of society...Bodyguards are really a symbol of this new feminism that exists. One wonders, once Qaddafi is no longer there, will the women still have this future? Do they have a future without him?'
[Ajami] says that while the bodyguards may exude sexuality, it demonstrates modern views on gender equality and family life under the Qaddafi regime. 'They present themselves well. The girls are trained in weaponry, but at the same time they want to look good. I really felt it was more about their pride and confidence. Most of the women who go into it are married with children.'"