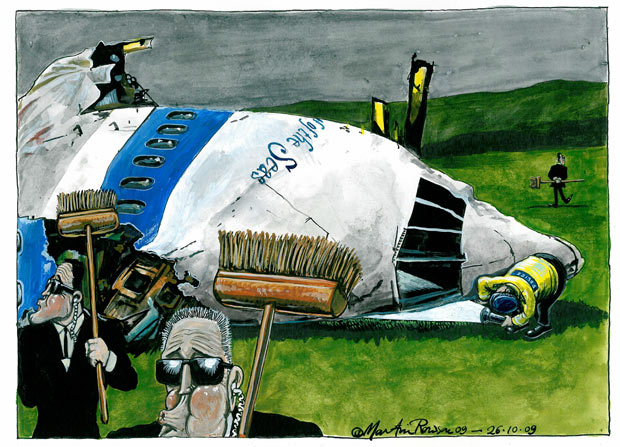 "In the 1990s, a CIA agent, the ex-chief of station in Syria, told [Lindauer] that, contrary to what the U.S. government was insisting, Libya had nothing to do with the PanAm 103/Lockerbie bombing. It had been done by Syrians acting on behalf of some U.S. intelligence agents, who had been caught in criminal actions by an oversight team, and sought to kill that team as they were flying back to Washington to report. She communicated that information to various members of the U.S. intelligence community, and wrote some of it in a deposition for the trial of the Libyans who were being framed by the U.S."

Pan Am Flight 103 was Pan American World Airways' third daily scheduled transatlantic flight from London Heathrow Airport to New York's John F. Kennedy International Airport. On Wednesday 21 December 1988, the aircraft flying this route—a Boeing 747–121 named Clipper Maid of the Seas—was destroyed by a bomb, killing all 243 passengers and 16 crew members.[1] Eleven people in Lockerbie, in southern Scotland, were also killed as large sections of the plane fell in the town and destroyed several houses, bringing total fatalities to 270. As a result, the event has been named by the media as the Lockerbie bombing.
On 24 February 2011, Libya's former justice minister Mustafa Abdul Jalil said that Muammar Gaddafi had personally ordered the Lockerbie bombing
There were at least four U.S. intelligence officers on the passenger list, with rumours, never confirmed, of a fifth on board. The presence of these men on the flight later gave rise to a number of conspiracy theories, in which one or more of them were said to have been targeted
Matthew Gannon, the CIA's deputy station chief in Beirut, Lebanon, was sitting in Clipper Class, Pan Am's version of business class,[26] seat 14J. Major Chuck "Tiny" McKee, an army officer on secondment to the Defense Intelligence Agency (DIA) in Beirut, sat behind Gannon in the center aisle in seat 15F. Two Diplomatic Security Service special agents, acting as bodyguards to Gannon and McKee, were sitting in economy: Ronald Lariviere, a security officer from the U.S. Embassy in Beirut, was in 20H, and Daniel O'Connor, a security officer from the U.S. Embassy in Nicosia, Cyprus, sat five rows behind Lariviere in 25H, both men seated over the right wing. The four men had flown together out of Cyprus that morning.
By Alex Thomas with Susan Lindauer
February 27th, 2011 - The Intel Hub
9/11 Whistleblower Susan Lindauer On Gadhaffi,
CIA Drug Running in Lockerbie and Israeli Bribes
Listen to the interview
here
.
In another ground breaking interview on The Intel Hub, former CIA Asset and 9/11 whistleblower Susan Lindauer discussed her visits to the Libyan Embassy in Washington this week, and revealed that she started talks for the Lockerbie Trial with Libya's diplomats at the United Nations.
Lindauer dished on Gadhaffi, Libya's vendetta culture and how tribalism might have inspired Gadhaffi's recent desperate gamble for survival.
She also explains how the Lockerbie bombing was tied to the CIA's involvement in heroin trafficking out of the Bekaa Valley in Lebanon during U.S. operations to rescue Terry Anderson and other hostages in Beirut.
Susan explains how
infuriated Defense Intelligence agents became determined to expose CIA complicity in Middle East heroin trafficking, and how terrorists took out both teams to protect their lucrative cartel
.
Lindauer also talked candidly about how Israel tried to buy U.S. Intelligence officers and Assets— though she emphatically denies, under any circumstances, ever accepting money from the Israelis herself.
Whether or not other agents within the government did take bribes is unknown at this time.
For the first time on record, she revealed that a known Mossad agent tried to bribe her into handing over Iraq's collection of banking records on Al Qaeda's financial pipeline by phoning her home in Maryland while she was traveling in Baghdad, and promising to deliver a suitcase full of cash to any city in the world in exchange for the papers.
Israel's obvious knowledge of her travel itinerary debunks the CIA's long-standing denial of knowing about her trip to Baghdad, which figured prominently in her 5 year indictment on the Patriot Act