German union magazine.. USA corporations the bloodsuckers. The buy german companies then fire everyone, strip assets and relocate in china... company goes down the drain.
Düsseldorf
George W Bush and his christian mafia - propaganda lies and real bloodthirsty empire crimes. Germany has a great tradition of carnival. Being without respect is tradition, saying the heretic truth in our modern doctrinal system is our duty.
An effigy of US President Bush holds a cross as a weapon on a carnival float during the traditional rose Monday parade in Dusseldorf, western Germany, on Monday, Feb. 7, 2005. (AFP/DDP/Volker Hartmann)


The Press, by the way, is criminally complicit.

The Press, these days, is a BRANCH OF THE CORPORATE PROPAGANDA DOCTRINAL MACHINE. The corporations PAY BIG BUCKS and doo amazing amount of screening to have writers come up with *** like the article above.

Propaganda always has SOME TRUTH, but it slips in the DOCTRINE from behind through the pantyhose.

But you knew that.

BOYCOTT CBS, NBC and all private media.

STATE-OWNED MEDIA (with guaranteed indepence) is the only way to go.
GERMANY HAS STATE OWNED MEDIA.

arse crawling merkel,
German Christian-Democrat (CDU) Opposition leader Angela Merkel is Shown Climbing a Ladder into Bush's butt above which hangs a sign "Re-Opening."
A Text Accompanies the Float:
"Angela is Glowing in the End / George Bush Remains President / She Feels Like in a Honeymoon / We Wish Her Good After-Noon."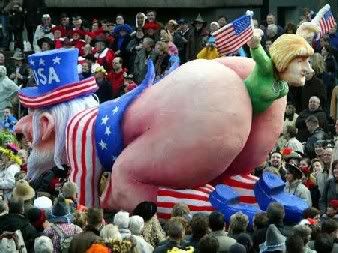 March 2003: Angela Merkel emerges from the buttocks of Uncle Sam after lambasting the SPD/Green government for opposing the invasion of Iraq.
Merkel inside Uncle Sam's butt!
COLOGNE, Germany -- Hundreds of thousands of Germans, many dressed as jesters or fools, have flooded Rhineland streets for the traditional "Rose Monday" procession, the highlight of the Catholic carnival season.
In Cologne, where the biggest parade got underway at 11 minutes to 11:00, around 10,000 people and more than 120 marching bands were expected to make the traditional tour of Cologne's cathedral distributing sweets until evening.
Cries of "Alaaf" -- Cologne for ever -- rang out, competing with the music as others sang, danced and shouted themselves hoarse in the crisp winter air under bright sunshine.
By mid-afternoon a crowd of more than 1.4 million people were in the streets of the western German city, according to organisers.
Among the guests on the sea of floats making its way at walking pace through the crowd were German supermodel Heidi Klum and British pop singer Seal.
Seal and Heid Klum(R)Folk, pop and techno music blared from loud speakers and marching bands. Among the main themes, one truck was arranged to make mileage from the scandal involving alleged bribe payments to a referee that has hit football here.
The five days of carnival involve major parades and festivities in cities like Cologne, Mainz, Duesseldorf and Bonn ahead of Shrove Tuesday (Mardi Gras), and organisers were hoping up to two million people would turn out on Monday.
During carnival, revellers fill the streets to parade, try to catch the kilos of sweets thrown by the handful from the floats and listen to live music. Being Germany, of course, beer consumption soars.

Organisers said that some 140 tonnes of sweets had been thrown in Cologne alone, and that around 300,000 bouquets of flowers were also given away.
Chancellor Gerhard Schroeder figured in the form of an effigy here, dressed as a Spiderman pulling on the strands of public debt and foreign policy that made up a large political web.
But it wasn't just in Cologne. World leaders were also receiving exposure elsewhere.
In Mainz, one float was decorated with an effigy of US President George W. Bush, backside bared, while German opposition leader Angela Merkel, known for her pro-American positions, figured running up a ladder behind him.
Despite an outcry that began two weeks before the float had been put on the road, organisers there said they were not caving in to any censorship, despite the imminent visit to Germany by Bush on February 23.
On the streets, police reported very few incidents even though the crowds had ready access to plenty of alcoholic beverages.
"Just the usual insanity, a few small fights and some drunk and disorderlies," said a police spokesman in Mainz, where it was estimated that more than half a million people had turned out.
The carnival also has a following outside the Rhineland. On Sunday, an estimated 750,000 people turned out for festivities in the capital Berlin, where some 70 floats paraded down the main Unter den Linden boulevard.ies, since Iraq is currently importing up to $200 million per month in gas and other oil products. Consumers pay about a penny for a liter of gas at the pump.
www.commondreams.org/headlines05/0208-10.htm