The USA military-banking-intelligence-industrial complex will
kill Obama
and continue to rule by fear, right?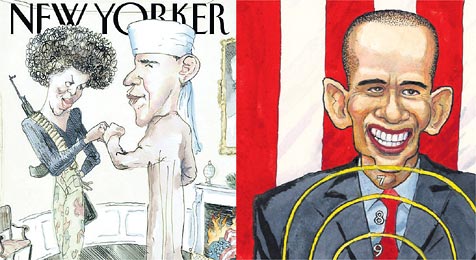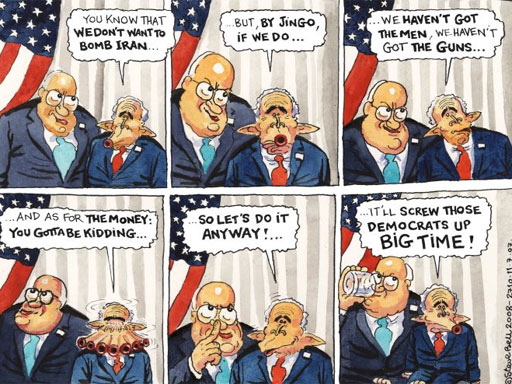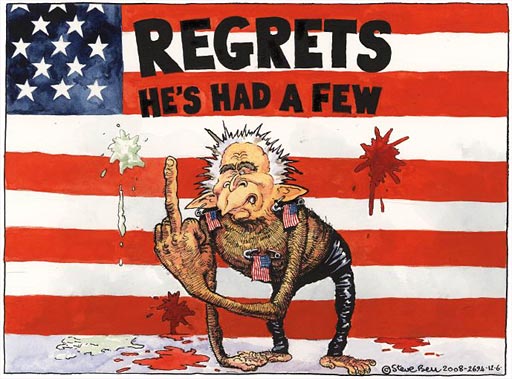 The Daily Show's Hilarious Coverage of Obama Cartoon
You know what Barack Obama's response should've been, "Barack Obama is in no way upset about the cartoon that depicts him as a muslim extremist, because you know who gets upset about cartoons? Muslim Extremists! Of which Barack Obama is not, It's just a fucking cartoon!" As always, no where was the anger at the media hotter, than in the media!
---
keywords

: Barack Obama, Barack Obama New Yorker Cover, Barry Blitt, Michelle Obama Angry, Michelle Obama New Yorker Cover, New Yorker, New Yorker Cover Michelle Gun, New Yorker Cover Muslim Obama, New Yorker Cover Obamas, New Yorker Cover Osama Obama, New Yorker Obama, Obama Chicago, Obama Muslim, Obama Muslim Smear, Obama Politics, Ryan Lizza Obama, Media News

Who knows if they'll get this in Dubuque, but they sure aren't going to like it in Chicago: This week's
New Yorker
cover features an image of
Michelle
and
Barack Obama
that combines every smeary right-wing stereotype imaginable: An image of Obama in a turban and robes fist-bumping his be-afro'd wife, dressed in the military fatigues of a revolutionary and packing a machine gun and some serious ammo. Oh yes, this quaint little scene takes place in the Oval Office, under a picture of Osama bin Laden above a roaring fireplace, in which burns an American flag. All that's missing is a token sprig of arugula.
The illustration, by Barry Blitt, is called "The Politics of Fear" and, according to the NYer press release, "satirizes the use of scare tactics and misinformation in the Presidential election to derail Barack Obama's campaign." Uh-huh. What's that they say about repeating a rumor?
Presumably the New Yorker readership is sophisticated enough to get the joke, but still: this is going to upset a lot of people, probably for the same reason it's going to delight a lot of other people, namely those on the right: Because it's got all the scare tactics and misinformation that has so far been used to derail Barack Obama's campaign — all in one handy illustration. Anyone who's tried to paint Obama as a Muslim, anyone who's tried to portray Michelle as angry or a secret revolutionary out to get Whitey, anyone who has questioned their patriotism— well, here's your image.

Barack Obama is a deeply troubled personality, the megalomaniac front man for a postmodern coup by the intelligence agencies, using fake polls, mobs of swarming adolescents, super-rich contributors, and orchestrated media hysteria to short-circuit normal politics and seize power.
Obama comes from the orbit of the Ford Foundation, and has never won public office in a contested election. His guru and controller is Zbigniew Brzezinski, the deranged revanchist and Russia-hater who dominated the catastrophic Carter presidency 30 years ago. All indications are that Brzezinski recruited Obama at Columbia University a quarter century ago. Trilateral Commission co-founder Brzezinski wants a global showdown with Russia and China far more dangerous for the United States than the Bush-Cheney Iraq adventure.
Obama's economics are pure Skull & Bones/Chicago school austerity and sacrifice for American working families, all designed to bail out the bankrupt Wall Street elitist financiers who own Obama. Obama's lemming legions and Kool-Aid cult candidacy hearken back to Italy in 1919-1922, and raise the question of postmodern fascism in the United States today.
Obama is a recipe for a world tragedy.
Every election in modern US history has been a criminal manipulation, choreographed and rigged by political elites and performed by hand-picked elite puppets, each backed by their teams of corrupt war criminals, intelligence/security "advisors" and think tank assets. The 2008 affair will be no different.
It is time once again to dispel the mass insanity and unfounded hopes as another fresh election hell ensues. There will be no savior, no end to the continuing world crisis, and absolutely no "change."
The monsters behind each candidate
As the American public once again gets swept up into another beyond, ridiculous carnival over which "presidential personality" is most "likeable," which preselected puppet makes a better speech, etc., there is little or no attention paid to the individuals behind each candidate; the forces that are pulling the strings, and actually setting the geopolitical agenda.
The Washington Post has provided a complete list of each puppet's respective "masters," which must be studied line by line:
The War Over The Wonks: A list of national security and foreign policy advisors to the leading presidential candidates from both parties
This list holds the key to the central issue: war.
As the names reveal, every major candidate (the favored puppets with any real chance of being selected) fronts for agendas set by current and former neoconservative and neoliberal "security" officers and politicos, members of the Bilderberg Group, the Trilateral Commission and the Council on Foreign Relations, and apparatuses such as the Heritage Foundation, the Center for Strategic and International Studies, the Brookings Institution, AIPAC, the Hoover Institution, the American Enterprise Institute, and others.
Some of the most nightmarish individuals who walk the earth today can be found behind the candidates, as follows:
The choice of the puppet masters
As noted by Daniel Estulin in The True Story of the Bilderberg Group, the masters of "one world government," whose members manipulate all elections, seek the following main objectives: 1) one international identity, or "internationalism," 2) centralized control of people, 3) a zero growth, post industrial society, 3) a state of perpetual world imbalance, 4) centralized control of all foreign and domestic policies, 5) empowerment of the United Nations and NATO, and 6) Anglo, American, controlled trading bloc.
While it is still too early to ascertain the final choice of the leading world-shaping groups (Bilderberg, Trilateral Commission, Council on Foreign Relations, etc.), it is clear, from the above lists, that the approved White House puppets are already the "front runners."
While true representatives of "change" such as Dennis Kucinich, Cynthia McKinney and Ron Paul, stand no chance (and whose "votes" would be systematically erased in any case), the only remaining puppets, and their respective teams, are proven supplicants of the existing war and industrial elite.
It goes without saying that the Republican candidates, particularly John McCain, is deeply connected to the worst elements, most prominently, Henry Kissinger. Barack Obama's elite connection speaks for itself: Zbigniew Brzezinski.
McCain's participation in the 1980s savings and loan scandal, as a member of the infamous Keating Five, is a matter of historical fact.
Also a matter of record are McCain's brutal views on war and killing, which are best exemplified by his 2001 op, ed, War is Hell. Now Let's Get On With It.
There is no better crystallization of McCain than his own blood, soaked words.
It is well known that both of the Clintons are long time members of Bilderberg. As noted by Daniel Estulin, John Edwards, who currently postures as a "populist," was handpicked by Henry Kissinger (who now works behind John McCain) to be John Kerry's vice presidential candidate in 2004. Now, four years later, his connections must have certainly increased.
Here comes the "even more aggressive 'war on terrorism'"
It's clear from the chosen "candidates," there will be no end to the war, or the continuing decline of the American empire.
The "war on terrorism" will not only continue but likely intensify and expand under "new management." The only question is whether the bias will be towards a neoliberal brand, , , the "more nuanced" multinational New World Order, a "bipartisan consensus" in Washington, more orderly economic and political declines, etc. . . . .or a continuation of the open brutality and criminality of Bush-Cheney.
Violent events, including the assassination of Bhutto in Pakistan, and other such "9/11s," stack the deck towards the latter . . . McCain and Giuliani.
The Republican candidates have uniformly and consistently echoed the Bush/Cheney/neocon war agenda and 9/11/"terrorism" lies. Huckabee, the bizarre dark horse of the Republican side, has voiced criticism of some Bush-Cheney policies, but not the "war on terrorism" in general.
The Democratic candidates have each declared themselves the champion "anti-terrorist," or the "real" anti-terrorist that George W. Bush is not.
Obama's murderous views on war are well documented, and similar to those of Bush-Cheney. In addition to war on Iran, Obama has declared that he would attack Pakistan if his administration possessed "actionable intelligence" that Osama bin Laden was hiding in Pakistan, and the government there did not act.
Edwards, who squealed during his 2004 vice presidential debate with Dick Cheney that he would "kill the terrorists," recently reiterated: "If I, as president, know where Osama bin Laden is, I would go get him."
Clinton went even further into details about her particular war fantasy: "At some point, probably when the missiles have launched, the Pakistani government has to know they are on the way."
In the end, McCain's War is Hell. Now Let's Get On With It is the voice of the consensus . . . the 9/11 lie exemplified.
The vote count and other illusions
As noted repeatedly in this publication, every aspect of the American vote has been, and continues to be, manipulated.
It is still a fact is that corporations (primarily connected to the Republican political apparatus) control the American vote, and with increasing technological sophistication: Diebold, ESS, Sequoia, and SAIC. In fact, new generations of their machines will be used in 2008.
Beyond the courageous whistle-blowing and activism by the likes of Black Box Voting and others, the same democracy destroying criminal juggernaut that has been in place for generations remains in control.
The winner of the 2008 election: crime
As Mike Ruppert wrote in Crossing The Rubicon: "That profits of crime and war, which are destructive of human life, of labor, of happy, healthy neighborhoods (whether in the US or in Afghanistan, Africa and Iraq) are in effect a keystone of the global economy and a determinant of the success in a ruthless competition, is a compass needle for human civilization. One cannot expect to follow the recipe for roadkill stew and produce a crème brulee."
Criminals do not obey laws. Criminals do not believe in "democracy."
Criminals do not "permit" elections.
They will not permit an election in 2008. They will impose another one.